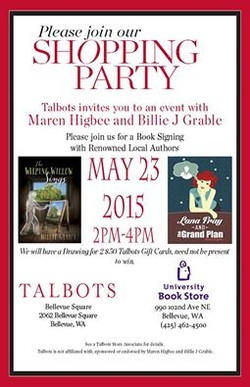 Come on over to the Bellevue Square to Talbots this Saturday, May 23, 2015!

University Book Store Bellevue is sponsoring the book signing featuring Maren Higbee, author of Lana Fray and the Grand Plan and myself, author of The Weeping Willow Sings.

And Talbots will be holding a drawing for 2 $50 Talbot gift cards!

The event is from 2pm to 4pm. Mark your calendar and I'll see you there!